Friday, 01 July 2005
Hot import models and cool cars: Driven To Perform 2005
By Michael Kwan, for THECOMMENTARY.CA
(Joseph Planta is away.)
VANCOUVER - Garage Five / Stage Five were the big winners at this past weekend's 2005, presented by Toyo Tires. Driven To Perform, formally known as Import Showoff and Showoff Canada, is an aftermarket car show featuring everything from pimped-out Preludes to fiery hot Ferraris. The Garage Five team deservingly took home the award for Best Team, having a prominent presence at Saturday's show.
Three of its members also won individual awards for their rides. Terry Chiu with his panda schemed 1985 Toyota Corolla - more affectionately known as the Hachi or AE-86 in tuner circles and made famous by the hugely popular Japanese animation series Initial D-went home with trophies for first place Toyota and second place JDM (Japanese Domestic Market. This class is where people modify their vehicles to emulate the cars found on the roads in Japan).
28-year-old David Yu, part owner of Garage Five Performance-one of the biggest retailers and installers of aftermarket parts, had dual honours for his 1990 Nissan 240SX with first place Nissan and first place JDM. A used good condition 240 goes for around $4,500, but Dave's ride has a street value well in excess of $40,000. In his own words, he has "focused primarily on the exterior, paint, bodywork and accessories," but his car is far from all show and no go. The same vehicle also won second place Nissan at the recent Sport Compact Nights in May.
Brendon Chu, who also participated in the show under the Garage Five banner, conversely focuses on performance, building his vehicle for circuit racing. By the same accord, his 1992 Integra is also cosmetically pleasing with chrome Work Meister wheels and a custom red paint job. Like a number of other competitors, the 23-year-old's car is also a daily driver that takes him to and from work. "It was tricky to balance both a track and street legal car. Many sacrifices had to be made to balance the two," said Chu. Perhaps the biggest highlight of Brendon's Integra is its fully built naturally aspired CRVtec engine. On a recent dyno, or measurement of the car's performance, it was putting out 246 horsepower at the wheels, or approximately 282 horsepower at the crank. Other modifications, totalling in over $25,000 not including labour costs, include H&R Road race series coilovers, Wilwood 12.2" cross-drilled and slotted rotors, front and rear sway bars, and a Bride Zeta II bucket seat.
Club-Integra.net is a local online community of Acura Integra owners of which this scribe is a member. Brendon Chu says he started Club Integra because "there was no local Integra club. There was a local club for all the enthusiasts out there, but nothing for Integra owners. [Brendon's] always wanted a chance to meet fellow Integra owners and attend Integra meets, but without a local club, it's pretty hard. So [he] got together with a couple of friends and started one up." As a result, Club Integra was born.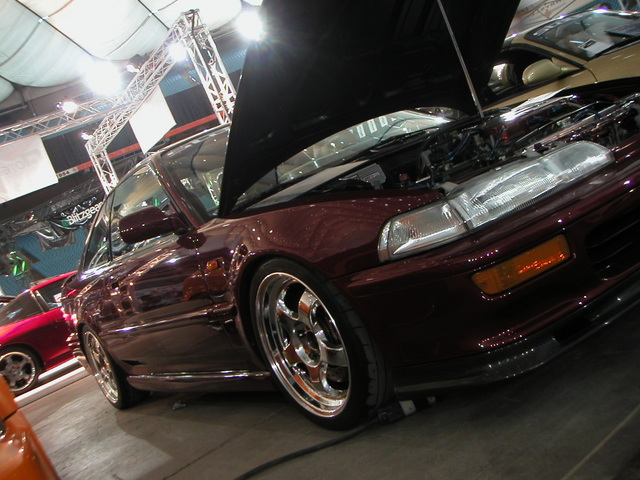 Brendon Chu's 246hp Acura Integra
Chu went home empty handed at Sport Compact Nights, a show that Chu calls "more show car oriented," but took home the prize for third place Acura at this event. Driven To Perform, according to Chu, is more "performance oriented. To give you an example, [Driven To Perform] is probably the only show where I have a chance to win anything because my car doesn't have any TVs, no flashy body kit, no flashing lights and no crazy sound system." E***** T*****, better known as T***** on REVscene.net, the largest local community of import enthusiasts, was the one who judged Brendon's car. In his words, the car, "makes me sad. [It's] sooo pimp." Brendon would like to thank Garage Five for all their help, Club-Integra for their support, and his good friend Tommy, who, says Chu, helped "me out with all my last-minute bodywork needs."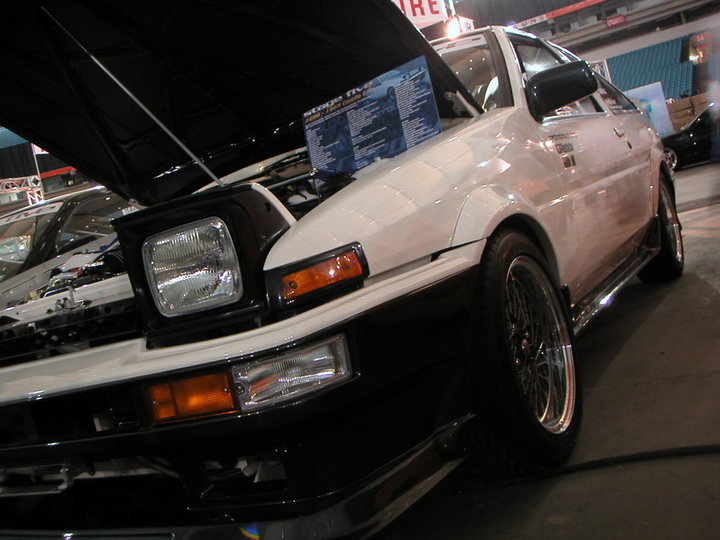 Terry Chiu's 1985 Hachi
Jason from Import Dynamix with his turbocharged 1993 Acura Integra won second place Acura. Benson Wong from Mospeed repeated his victory at Sport Compact Nights and won first place Acura with his popular super show car, a second generation Integra featuring countless LCD screens including a pair mounted in the floor of the front seats and one under the hood. Other winners include Jameson Smith from Zenkai Rush / Ignition Racing Development with his Red 2002 Subaru WRX, who won first place Subaru and his teammate Justin with first place Domestic. In all, over 400 vehicles entered the competition's 70 categories. "I like the pleasure of working on my car and seeing the finished product, knowing I did the work myself," says Jeff Parno of Burnaby. "I've only spent about $300 on my [1998 Honda Civic] but plan on doing a b18c [engine] swap in the near future. I do it because my car is the one thing that is absolutely mine."
Among the other highlights from Saturday's show included a large track for radio-controlled car races on an approximately 1:24 scale-which were flying at breakneck speed. There was a dance competition for local dance teams, including a group of six young girls from Tacoma, Washington who choreographed their own routine. They called themselves RCJ. There were also hip-hop and break dance competitions, a lingerie show, and other stage performances. A number of local car modification shops set up booths as well to showcase their products and services. These included Axis Audio, Advance Motorsports, Blitzgear, Modz Distributing, DriveHard Performance and Kinetic Motorsport.
What aftermarket car show would be complete without import models? Driven To Perform didn't fail to impress in this area as well, bringing in not only local talent, like Stephanie Ly and Ivana Colich, but also models from throughout Canada and the U.S. The highly lusted after K.T. So of California and up-and-comer Carolyn Savage of Toronto were on hand at the REVscene.net booth. Other professional notables include Miss Toyo 2005 Jenna Trainer, ACE Performance Wheels spokesperson Jeri Lee, star of the upcoming Final Destination 3 Crystal Lo, and Team Celica's Nikita Esco.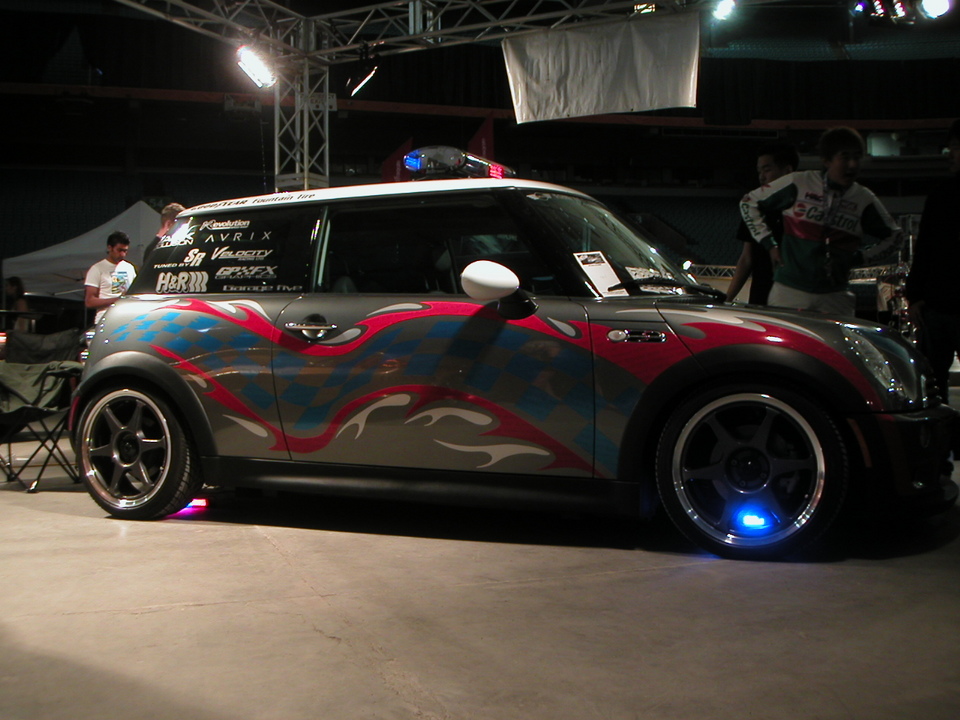 Cst. Quilley's Mini Cooper
Constable Rob Quilley of the Richmond RCMP was also on hand, lending support and showing off his souped-up RCMP Mini Cooper, complete with custom exterior and LED lights in the wheels. "This was the best show I have been to in [two and a half] year and really enjoyed it," Quilley says. "I saw lots of people and cars I know. [I] had a lot of fun and even gave you guys a half JDM pose."
Vancouver was the second stop on the tour for Driven To Perform, the first being in Calgary's Olympic Oval last month. The third and final venue will be in the Northlands Agricom in Edmonton on 09 July 2005.
-30-
Michael Kwan's own website, Now That's Entertainment. . ., is at http://www.geocities.com/now_thats_entertainment
Questions and comments may be sent to: editor@thecommentary.ca
---
---
©1999-2005. The Commentary, Joseph Planta