Cobras, Camaros, and Caymans, oh my! - The 2006 Vancouver International Auto Show
By Michael Kwan, for THECOMMENTARY.CA
Tuesday, 04 April 2006
Joseph Planta will return.
The 86th Annual Vancouver International Auto Show rolled into town last weekend, granting you the opportunity to gaze upon over 250,000 square feet of exhibits, more than 560 makes and models, and several vehicles making their Canadian debuts. From grocery getters to high-end exotics, you'll find it all under the dome at BC Place Stadium.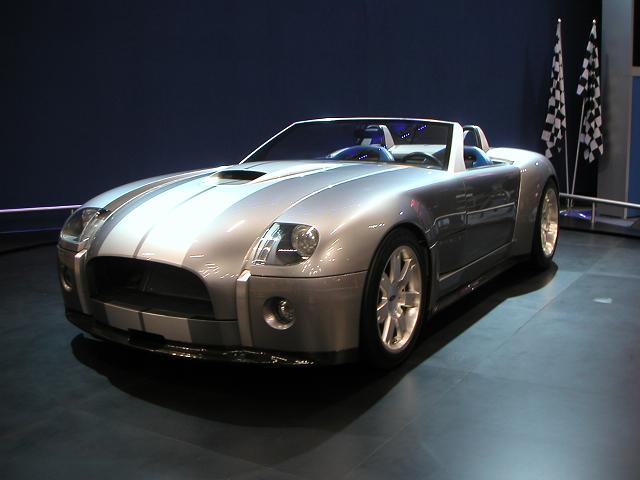 Ford was showcasing its new Fusion, but that not-so-exciting sedan wasn't what caught this reporter's attention. The Ford Shelby Cobra concept is an incredible vehicle, complete with a V10 that pushes out in excess of 600 horsepower. The people at Ford took a minimalist approach to the roadster, with a brushed aluminium dash, carbon fibre trim, and bucket seats complete with racing harnesses. The front end looks a little off, though, because a large opening reveals a front mount intercooler placed on an angle. With the headlights the way they are, it almost looks as if the Shelby Cobra is crying.
The Camaro Concept from General Motors was supposed to steal the show, and many car enthusiasts are very excited about the new redesign, but I found it quite boring. Sure, it has a wide stance, incredibly narrow side mirrors, and low windows, but it wasn't anything that made me go, 'Wow,' though the 400hp 6L V8 is quite impressive. There is a definite retro feel to the new look, just as Ford did with the Mustang and Dodge did with the Charger.

From the last of the big three, we saw a not-so-innovative Dodge Nitro SUV with a 210hp V6 and all-wheel-drive; the $52,000 Dodge Charger SRT-8 with a 426hp V8, and yes, it has a HEMI; and the Dodge Caliber, an entry-level 5-door hatchback / crossover with available AWD.
Porsche showcased the Cayman S, designed to fit just a touch higher than the "entry-level" Boxster. From the average person's perspective, it would hard to distinguish the Cayman from a Carrera, so if you want the Porsche look without putting in the extra money, you might want to consider this 295hp coupe, priced in the mid 80s.
Toyota had a strong showing. The Yaris hatchback has been a huge hit, and now you can pick up the petrol-sipping econobox as a sedan. Don't expect a lot of power from this little car, but you will get comfortable seats, great sight lines, and an MP3 deck. Pricing is around the $18,000 (CAD) mark.
The Toyota Camry is receiving an all-new look for the 2007 model year, and the front fascia is immediately reminiscent of the Yaris. To me, this cheapens the Camry name, but it seems they tried to make up for it with a slightly more aggressive, almost BMW-like rear. I'm afraid that the new Camry might not appeal to its primary audience, but then again, I'm not the primary audience. Pricing starts at $28,400, with a Hybrid version to also be available. It must also be noted that Toyota is making its first foray into NASCAR with a heavily modified version of the new Camry.
We saw the FJ Cruiser at last year's Auto Show, but now Toyota's rugged little number is ready for production. They decided on a 4L V6 for this mountain climber, with an adequate 239hp and 278 lbs-ft of torque. It definitely has a unique look to it, and for me, makes me think of Lego for whatever reason. Jeep has certainly found itself some stiff competition in this $37,000 offering from Toyota, which goes on sale sometime this spring.
The Yaris is far from having a monopoly in the ultra-compact market. Nissan is releasing the Versa, a five-door hatchback with available continuously-variable transmission (CVT). They say the 1.8L DOHC engine will do better than 120hp, but don't expect to be "hauling ass" with this rather generic looking grocery getter. The price is right, though, starting from the mid 14s.
The highly anticipated Fit started selling last month, and Honda has done a great job of marketing the vehicles different seat arrangements. The rear seatbacks can be folded flat for a deeper trunk, the rear seats themselves can be folded up for taller objects, or with a couple simple moves, you can make yourself two beds for when you want to catch a few Zs. The body shape is almost minivan-like in nature, though obviously on a much smaller scale. The base model, starting at $18,380, comes with boring looking hubcaps (and wannabe carbon fibre trim). If you want a little more styling, you may want to opt for the Fit Sport.
The Acura RD-X crossover is almost ready to ship (we hear that August is the target). It sports the same all-wheel-drive system found in the high-end RL, unique LED front and rear lights, huge 19-inch wheels, a panoramic moonroof, and - get this - no door handles. Instead, it seems to have "touch panels" that open the doors, though it's unclear whether the model at the Auto Show is the same as what will hit dealerships later this year. No word on pricing.
Finally, a quick run-down of some other highlights:
- Ford: the overpriced Ford GT supercar, said to fetch over $300,000 in bidding wars across the country; the 2007 Model U concept, a small SUV with a retractable ragtop and an iPod-esque interior; and the 2007 Edge crossover that may be replacing the Freestyle.
- GM: the Sequel, a hydrogen fuel-cell powered SUV; the HHR, designed to tackle the PT Cruiser, though you won't hear anyone from GM say that; and the Saturn Sky, the more aggressive 177hp cousin to the Pontiac Solstice, on a back-order until at least September.
- Audi: the S6, an incredibly powerful V10-fueled sedan; and the RS4, a street-legal car with race-bred technology.
- Mitsubishi: the Eclipse Spyder GT-P is simply the convertible version of the Eclipse that debuted last year. For $38,000, you'll be able to fetch the Illinois-made roadster powered by a 3.8L MIVEC V6 engine. Personally, I found the wheel gap to be far too much for a "sports car."
- Mercedes-Benz: the B200 compact car with a modular moonroof, gushy seats, a gutless 134hp engine, and an attractive $31,000 price tag.
- Mazda: the CX-7 SUV/crossover (available this fall) that looks sort of like a Lexus RX350, sports a 244hp 2.3L engine, and a clean "tuner"-like interior. I was disappointed to not see the Mazda Kabura concept at the show.
- Lotus: the lightweight 190hp Elise roadster which is finally available for sale in Canada (Weissach Performance, locally). The small cockpit might be a tight fit for larger (or even medium-sized) fellows, but this exotic-looking convertible doesn't come with too exotic a price: from $58,550.
- Lamborghini: the Murcielago Spyder, a convertible head-turner that will put you back nearly half a million dollars.
The Vancouver International Auto Show, presented by the New Car Dealers of BC, runs until April 9 at BC Place Stadium. General admission is $12, with discounts for seniors, students, and children. More information available at bcautoshow.com
***
For a more in-depth analysis and commentary on this year's Vancouver International Auto Show, be sure to check out "Beyond the Rhetoric" on MichaelKwan.com.
-30-
Questions and comments may be sent to: editor@thecommentary.ca
---
---
An archive of Joseph Planta's previous columns can be found by clicking HERE.
©1999-2005. The Commentary, Joseph Planta